Residential Roofing Repair & Installation Contractor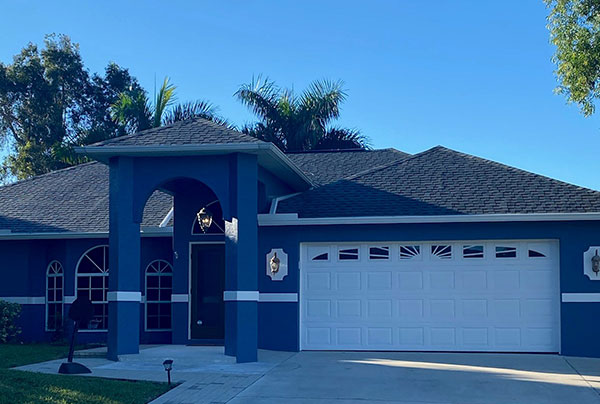 First Response Roofing is a full-service residential roofing repair and replacement contractor for homeowners and businesses in Southwest Florida. We specialize in the most popular types of roofing (tile, metal and asphalt shingles) for property owners in this region. Contact us for details about our five-year labor warranty!
As a locally owned company, we understand the way nature (hurricanes, high wind, heavy rains and more) wreaks havoc on our roofing systems. Our experienced team can help you with any residential roofing services. We can even talk to your insurance company for you. Contact First Response Roofing today to schedule a free roof inspection and estimate!
Our Roof Replacement Process
Initial Inspection: We will make sure that replacement is the right choice for your situation. Our inspection will document all damages and provide our expert recommendation for replacement or repairs (if a simple restoration job makes more sense).
Quote: Our roofing specialists can discuss your roofing options with you and help you choose the right roofing material for your new roof, along with a free quote for the job.
Old Roof Removal: We will carefully tear off your old roof, making sure not to cause unnecessary damage to the underlying structure and dispose of the old materials properly.
Deck Inspection: Once the old roofing materials are gone, we can inspect the decking that supports the roof. If this component has damage, we will repair/replace it before installing the new roofing materials.
New Roof Installation: Now that your roofing structure is strong and ready for a new roof, we will begin installing the new materials. The time required for installation will depend on the type of roof you are having installed.
Final Inspection: Our team will take the time to fully inspect the new roof once installation is finished, ensuring that we have done everything needed to provide you with a durable, beautiful new roof.
Cleanup: We will thoroughly clean up the job site to leave you with a tidy space.
Request a Free, No-Obligation Quote Today!
Our residential roofing specialists are second to none, ready to give you the new roof you are looking for. To get started, call First Response Roofing today at (888) 703-3191 or submit the contact form and we will respond ASAP.