Commercial Roofing Repair, Maintenance & Installation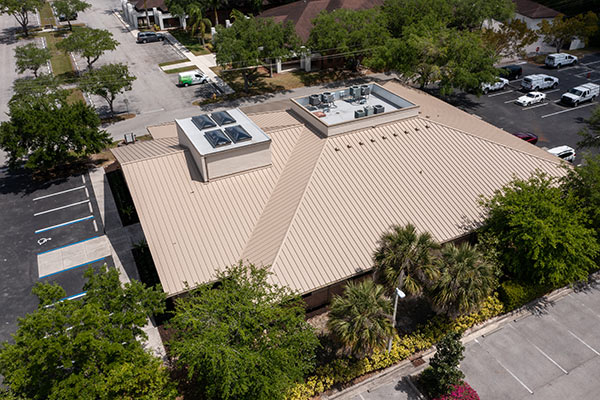 Maintaining your commercial roof and keeping it leak-free will add longevity to your investment. First Response Roofing specializes in repairing all types of commercial roofs in Southwest Florida. We can find any problem and fix it right the first time. You can either call us for one-time service or sign up for a commercial roofing maintenance contract, designed to save you money in the long run by minimizing the effects of roofing wear and tear. Either way, our professional, dedicated team of roofers will be delighted to serve you. Contact us today for a free quote!
Comprehensive Roof Inspections & Repairs
Each maintenance visit by one of our roofing specialists will include a comprehensive roof inspection and any necessary repairs performed on the spot. We will inspect every component of your roofing system, including but not limited to:
Covering (TPO, EPDM, etc.)
Underlayment
Sheathing
Rafters
Flashing
Trusses
Soffits
Fascia
Skylights (if any)
Gutters & downspouts
If there is a problem with your roofing system, we will find and fix it. That's our promise to you!
Sign Up for Commercial Roofing Maintenance
Preventative maintenance is the way to go when you want to maximize the life of your roof. Local businesses are invited to sign up for our roof maintenance program. Depending on your preference, we can visit your property once or twice annually (at least once per year is highly recommended). For one low cost per year, your roof maintenance needs will be covered by our skilled technicians.
Request a Free, No-Obligation Quote Today!
Does your home or business need a commercial roofing contractor you can count on? We would love to discuss your repair, installation or maintenance needs and provide you with low-cost strategies to maintain your roof. Call us today at (888) 703-3191 or submit the contact form and we will respond ASAP.