Pros & Cons of a Metal Roof in Southwest Florida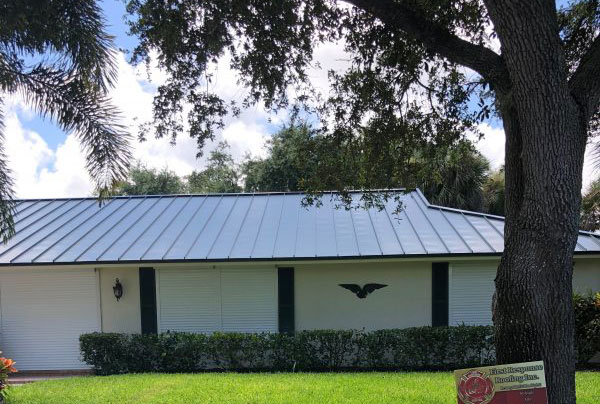 First Response Roofing takes pride in providing our customers in Southwest Florida with beautiful metal roof options. Because a metal roof is easily able to withstand heavy storms, our company specializes in metal as one of our three most common roofing types. A metal roof can ensure our customers are protected by a durable roof for many decades. Contact us today for more information and a free quote!
Pros of Metal Roofs
Long-Lasting: A metal roof that is properly installed and maintained can last 70 years or longer. Metal withstands heavy winds and hailstorms, making it a perfect choice for the Southwest Florida climate.
Energy-Efficient: Metal roofing reflects the sun's heat, helping to minimize cooling costs during hot summer days. Added insulation can also increase the roof's energy efficiency.
Environmentally Friendly: When your metal roof eventually gets old enough that it needs replacement, the metal scraps can be recycled, making metal roofing a popular "green" building material.
Cons of Metal Roofs
Dents: Although the material might not puncture all the way through (which is great!), a metal roof can still be dented by heavy hailstones or falling objects such as a tree branch.
Costly: Metal roofing is typically more expensive than a traditional asphalt shingle roof. If your upfront budget is small, you may want to opt for asphalt shingles as a more budget-conscious roofing choice. 
Request a Free, No-Obligation Quote Today!
Would you like to discuss our metal roofing options? First Response Roofing would be happy to share our metal roof expertise and help you decide if metal is right for your new roof in Southwest Florida. To get started, call us today at (888) 703-3191 or submit the contact form and we will respond ASAP.